With the advent of modern technology, living is becoming easier and more convenient–all thanks to brilliant inventions that reduce the need to exert effort to accomplish tasks.
For instance, with the introduction of smart bathroom appliances, it is possible for you to wake up in the morning and find the bathroom floor already warm, the shower water is already at your ideal temperature, and your favorite wake-up song is playing automatically in the background.
These are not merely musings from a science fiction movie, it is indeed possible with the following smart bathroom gadgets.
1. Smart Showers
With smart showers, you can set your preferred water temperature and it will automatically adjust it for you so that you can bathe in just the right warmness of water. Hence, it is time to say goodbye to the times where showering is either too freezingly cold or scaldingly hot.
On top of that, you can also play music straight from the shower. How cool is that? And to further amplify the showering experience, some smart showers incorporate chromotherapy lighting to add a zen-like dimension to your bathroom.
Smart showers work by updating your shower routine with the help of modern technology. With just a few clicks and taps, you can activate the built-in smart bluetooth speakers, which would allow you to blast some funky music, or catch up on the news or your favorite podcast.
Setting the perfect temperature and flow rate is also a piece of cake with the use of the remote or accompanying mobile application. Also, if you want a specific routine such as a three-minute power shower followed by 30 seconds of intense cold water it would pose no problem for the digital showers.
Say goodbye to minutes wasted on fiddling with the shower just to get it at the right temperature–thus freeing precious moments in your daily routine.
You can also take the mood to a whole new level with an LED shower head which uses temperature-guided colours. This means you won't have to deal with cold and rude awakenings as the water heats up.
Simply watch the colours turn from blue to purple to red before leisurely stepping in to ensure that the water is already heated.
2. Smart Taps
Similar to digital showers, smart taps use the power of technology to give you a wide range of control over the customization of lighting, heating, flow rate and water temperature.
Smart taps can be installed anywhere with running water–be it in the shower, bath or sink taps. One of the benefits of converting your boring taps into a smart one is that it can help save precious time.
These smart gadgets could be crucial to free up time from your morning schedule as this allows you to remotely draw the perfect bath, so it is ready the moment you step through the door.
To top it off, these smart taps can be integrated with smart devices like Amazon's Alexa and Google Home, which would allow you to use voice command technology to set up your perfect bathroom.
Imagine, you would not even have to lift a finger, just utter your command and it shall be done within seconds.
Another advantage is that smart taps can help lower costs and reduce your ecological footprint. After all, these devices keep track of your water consumption, which can help you evaluate your routine and save you money by reducing usage.
Some smart taps also come with infrared sensors which prevent water wastage by automatically turning off the tap when not in use.
3. Smart Mirrors
Perhaps one of the most annoying occurrences when taking a steamy bath is when you need to use the bathroom mirror but you have to wipe it down first because it is all fogged up.
Wiping the mist away certainly takes time and effort, not to mention, it will ultimately leave a trail of droplets that will dry and mark the mirror in the long run. However, with the invention of smart bathroom mirrors, such concerns are nothing but a thing of the past.
These gadgets come with insanely convenient features including LED backlighting and built-in demisters.
Some of the other mirror-related technology innovations in these smart bathroom mirrors include motion-detector software that automatically turns on the backlights of the mirror upon detection of movement.
It also has touch-screen technology, in-mirror speakers and far-field microphone for any voice commands. On top of that, it has waterproof remote controls and integrated plug sockets and charging points for shavers and electric toothbrushes. What more could you ask for?
If that is not enough for you, you can also turn your smart mirror into a second computer screen so that you can get today's weather updates while you do your make up. You can also read the traffic updates while you shave and get up to speed with the latest news headlines while you brush your teeth.
Best of all, you can also watch your favourite online tutorial on makeup and follow the instructions in your LED backlit mirror. Or, for the ultimate indulgence, position the screen to face the bath or shower and watch your favourite TV show while having a soak.
4. Smart toilets
Of course, as far as bathroom technology goes, the invention of smart toilets will allow your toilet to do a lot more than just flushing the impurities you excreted. From heated seats perfect for cold winters to motion-sensitive lids that will automatically open and close to help you prevent the spread of germs, these smart gadgets have a lot to offer.
It also comes with a dedicated spraying system with customizable water pressure and temperature so that you can wash your private parts with just the click of a button. If this isn't the epitome of convenience and hygiene, well, we don't know what is!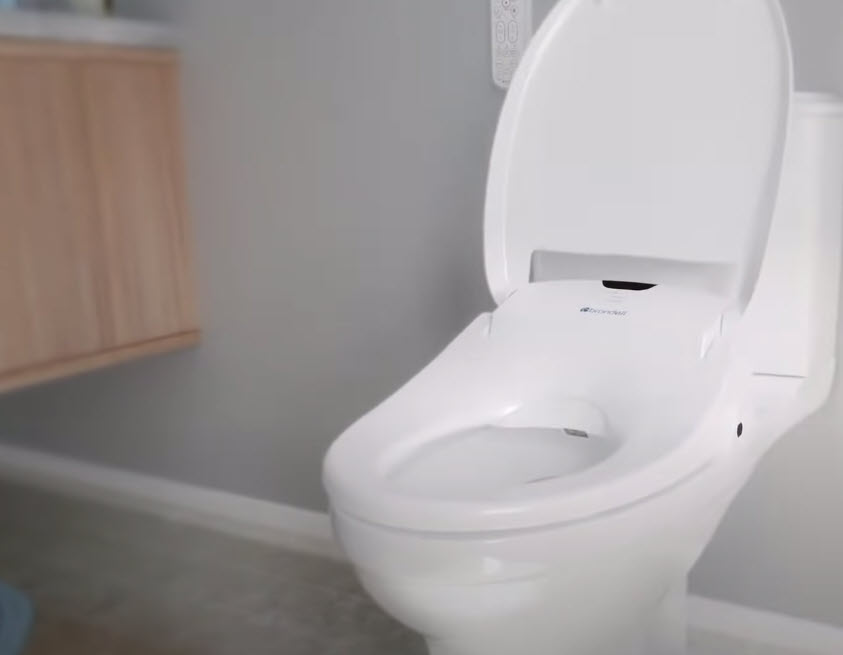 5. Whirlpool and Hot Tubs
Craving for a full 5-star spa treatment at home? Install a 250-liter whirlpool bath at home and make your bathroom sizzle and steam to your satisfaction. It could either be a luxurious corner bath or a large five-corner suite with over 20 adjustable water and air jets.
One thing is for sure though, it will bathe you in soft bubbles and fragrant splashes of water that will inevitably massage and melt your stress away. These jets can be also be fully customised, including its location and pressure.
As a bonus, when you fit this with a smart tap, it can provide the ultimate bathroom luxury of convenience and relaxation. Just command Alexa to start running the bath and step in once done.
Another awesome article here: What Causes Countertop Cracking and What Can You Do About It?
Ready to Upgrade to a Smart Bathroom?
Smart bathroom innovations will not only streamline your morning routine, but it can also help reduce energy and water consumption so that you can save money and precious natural resources over time.
If you are planning for a bathroom remodel to incorporate these smart technologies, don't hesitate to contact us at (848) 227-9003. JW Toms River Tub Reglazing & Refinishing is here to offer you our best bathroom service any time, anywhere!