If it has been a while since you bought your bathtub, then it is understandable if it already looks worn out and discolored. And if no amount of cleaning or scrubbing could bring it back to its former pristine condition, then it is also understandable if most homeowners would think that replacing it with a new one would be the best option.

However, with all factors considered like time, money, and effort, it is in your best interest to consider bathtub refinishing/reglazing instead.
First of all, bathtub replacement will cost you a fortune as the cost of the new bathtub is only the beginning. For starters, a standard 5-foot enameled steel tub might cost around $150, but when you factor in the cost of a contractor, demolition, removal, landfill fees, tilers, and plumber fees, the total cost skyrockets.
Alternatively, there's bathtub relining, which is also pricey but is undeniably cheaper than a full replacement. However, it is merely a band-aid solution that just covers up the problem.
At prices equal to or greater than refinishing, bathtub liners are still not the best option. Bathtub refinishing, on the other hand, is more inexpensive than a full replacement, but unlike refinishing, you never have to worry about the outer finish wearing away.
What are the Benefits of Refinishing My Tub?
Perhaps the best thing about refinishing your tub instead of replacing it is that your tub stays in place. When it comes to home remodeling, changing one thing leads to a domino effect as something adjacent also gets affected.
For instance, If the tub gets replaced and the new unit does not have the same plumbing fittings as the previous one, then you will have to deal with the plumbing issues that may arise and spend extra money on it.
Not to mention, you also have to spend on repairing the tile surround, flooring, and cement board. If you avoid replacing it in the first place, then you would not have to deal with this domino effect.
When you have a tub refinished the surrounding materials including tile, flooring, and all of the other elements are masked off and left in place.
Professional vs DIY Bathtub Refinishing
If you were thinking whether it is worth it to hire a professional to do the job or if the task is easy enough to do on your own, we are here to help you decide. First off, if the labor cost were not an issue, professional refinishing is absolutely the best way to go.
After all, professional refinishing will produce superior results in terms of appearance and the time it takes to complete the project. Not to mention, the work is far more tedious and pain-staking than one might imagine, with surface preparation comprising about 75-percent of the project.
However, if you are In a pinch or you just want to try and take matters into your own hands, a do-it-yourself job will also work. Just know that the results may not reach a professional level and that the job may not last for more than a couple of years.
Professional Bathtub Refinishing Process
Professional tub refinishers may call their process reglazing, and the specific steps they use may differ on certain aspects, but ultimately, the basic process is pretty standard.
Preparation:
The pros would clean the bathtub thoroughly and remove all caulking.
They would mask around the bathtub and cover areas that will not be refinished. Technicians would also put down drop cloths and covers over cabinets and plumbing fixtures. This is because refinishing technicians are aware of the fact that they are in a private residence, so they take all kinds of precautions to minimize overspray and creating a mess.
They would remove the bath faucet, drain fittings, and other hardware.
Technicians would set up a ventilation fan to vent overspray and odor outside.
Actual procedure:
Lightly sand the entire bathtub to roughen the original finish. In some cases, the tub may also be etched with acid to help the new coating adhere better.
Vacuum the bathtub to remove debris from the sanding stage.
Fill in chipped, scratched, or worn areas, then sand it down to smoothen the surface.
Apply up to three coats of primer with a sprayer, and let it dry.
Apply three or four layers of a top-coat mixture with a sprayer, and let it cure.
Buff the coating then come back a few days later for final buffing.
Results:
Appearance: The quality of a well-refinished tub rivals that of a new tub's surface. It will have a smooth and glass-like surface.
Time of completion: Professional refinishing can take three to five hours for the process, with the tub/shower ready for use within 24 hours if they would opt not to buff the coating several days after.
Durability: Most professional refinishing jobs last for up to five years or more. Some professional refinishing companies even claim that most of its jobs last from 10 to 15 years.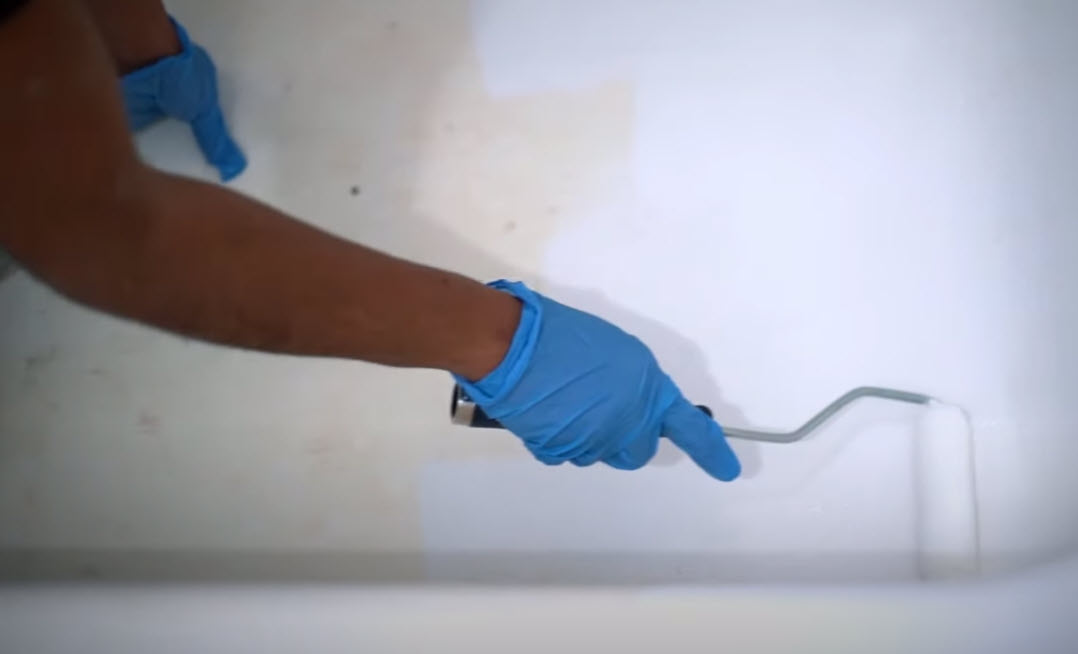 Do-It-Yourself Bathtub Refinishing
If you decide on taking the DIY route, you would definitely spend less than when hiring the pros. However, it is quite possible that you will end up with an inferior finish that is more likely to peel.
Remember, a DIY coating is much tougher than ordinary paint but is not as durable as a professionally applied coating. To protect the finish, do not clean the recoated tub with any abrasive cleaners, such as Comet.
As for the materials needed, instead of using a spray gun like the professional refinishers do, use a brush or a small roller as this is easier to maneuver. ​You can also buy DIY kits that include a quart of epoxy with hardener, latex gloves, steel wool, brush, cleaning solution, cleaner/thinner, and safety goggles.
Preparation:
Clean the tub thoroughly and remove all caulking.
Remove the tub faucet and drain hardware.
Mask off and cover the area around the tub.
Open windows and set up fans to provide active ventilation in the work area.
Actual Procedure:
Etch the surface of the tub with water and the kit's etching powder to dull the finish so the new coating will bond to it.
Rinse the tub.
Sand the tub while it is still wet to further roughen it. Do this to improve the bonding of the coat to the surface.
Rinse the tub and let it dry.
Wipe the tub with paper towels to ensure that all water will be removed.
Wipe with a dry tack cloth to remove any dust or paper residue.
Apply the primer with a roller, and let it dry as directed.
Mix the epoxy coating.
Begin applying it to the sides of the tub with a roller. Alternate between vertical and horizontal strokes to prevent drips and roller ridges.
Move on to the tub deck (horizontal surfaces), then roll the tub bottom. Finish the edges as needed with a sponge brush.
Apply a second coat of epoxy coating immediately after the first.
Let the tub cure for 48 hours. Keep the area ventilated for at least the first day.
Reinstall the faucet and hardware.
Finally, caulk the tub and let it cure overnight before using the tub.
Results:
Appearance: The use of roller and brushes results in an adequate finish. However, roller or brush marks may show, and drips may occur, as well. As such, it may not be as even and flawless as the work of a professional who uses a spray gun.
Time of completion: DIY bathtub refinishing usually takes a full day. Then you have to let it cure for 48 hours. Only then can you use the tub.
Durability: DIY bathtub refinishing jobs last for about two years.
Bathtubs are the most popular part of a bathroom to reglaze. This is because bathtubs get stained and scratched easily with everyday use.
Reglazing your bathtub can be an expensive process, but it's a cost that's worth paying for if you want your tub looking like new again. Professional bathtub refinishing will make your old tub look like new again without having to replace it or spend thousands on remodeling projects.
JW Toms River Tub Refinishing offers professional services at affordable prices so you won't have to pay more than necessary for the job done right the first time around!
Our team has years of experience in all aspects of residential and commercial construction including flooring, painting, tile work and much more! We're here to help solve all of your home improvement needs at reasonable rates!
Call us today (848) 227-9003 for a free estimate on any service or project you need completed!